HDR Software, News
Comments Off

on Lightroom 6 and Lightroom CC Announced Today!
We shall be watching for information as it becomes available throughout the day… Adobe released Lightroom 6 and Lightroom CC today at noon eastern time!
"The company has sold Lightroom as a standalone software or as a part of the Adobe Creative Cloud Photography subscription; the former will cost you $149 for the Lightroom 6 application, whereas, the latter's subscription is at $9.99 per month. However, Adobe makes it clear that if you choose to opt for the standalone option, you might have to forsake the ability to sync photos to its mobile application suite such as Slate, Voice or Lightroom Mobile.
Along with face detection, Adobe Lightroom adds panorama and HDR, plus its software has been tweaked further to boost performances. The HDR features are quite common in applications, even Adobe's basic options such as Photoshop Elements.
Other features include Radial filter and Graduated Filter Brushes, and desktop slideshow options with pan-and-zoom effect. Adobe not only updated the Windows and Mac app but also paid attention to push the update to its mobile applications on iOS and Android. The mobile apps brings better photo-grouping options and tools for cropping, and copy-pasting received adjustments as well.
Senior Product Manager for Adobe Photography Products, Sharad Mangalick, stated: "What we're seeing is an opportunity for Adobe to step in and streamline the workflow and clean it up so that photographers, whether you're pro or very casual, can have the best output with the highest quality and have it be really simple to use."
Update:
The New Adobe Lightroom 6 is out now! It has just been officially announced at12.01 PM EST on 04/21/2015
http://adorama.evyy.net/c/62404/51926/1036?u=http://www.adorama.com/AB65237578.html
Adobe Lightroom 6 for Mac and Windows
$149.00
The new Lightroom 6 has face recognition, Panorama Merge (stitch together multiple images, including raw files to create unique panorama shots), faster performance for importing and perfecting your photos, Advanced Video Slideshows and more. For a comparison sheet with Lightroom 4 and 5 and detailed information on the new product, see files provided by Adobe here:https://www.dropbox.com/sh/vvje52kk41qvhro/AAAikW2izapl2pJ8id6Tht6La?dl=0
~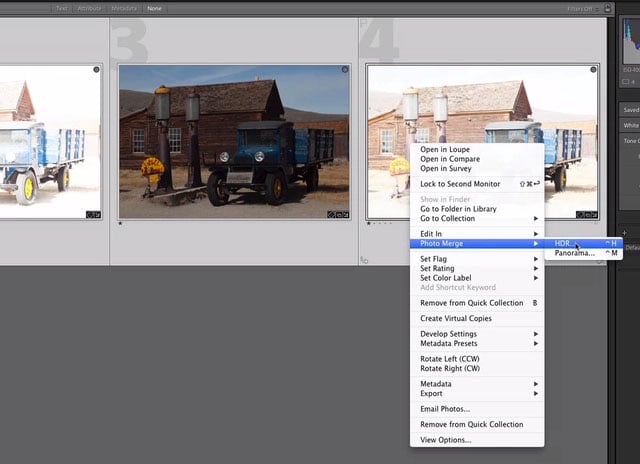 Earlier this month, a leaked product page revealed a number of features that will be found in the upcoming Lightroom 6. One of them was an HDR merging tool that combines multiple exposures into a single HDR image. Here's a first glimpse at how the feature will work.
First, select multiple versions of the same shot that were captured with exposure bracketing:
Read more:
~