GoPro finally revealed their Karma Drone, but in CEO Nick Woodman's words: It's so much more than a drone. Foldable, easy-to-use, and equipped with a removable stabilizer that you can use hand-held or mounted to something else, this is an incredibly impressive all-around machine.
Announced during this morning's live stream, Karma is a big deal for GoPro. Not only does it let you take your Hero 5 Black, Hero 4 Black, or Hero 5 Session to the skies, the attached stabilization system can be removed and inserted into the included "Karma Grip" that lets you use it handheld or mount it to your helmet, bike, car, or self.
Combine that with GoPro's built in digital stabilization and the stabilizer allows users to create buttery smooth footage never before possible with any action cam.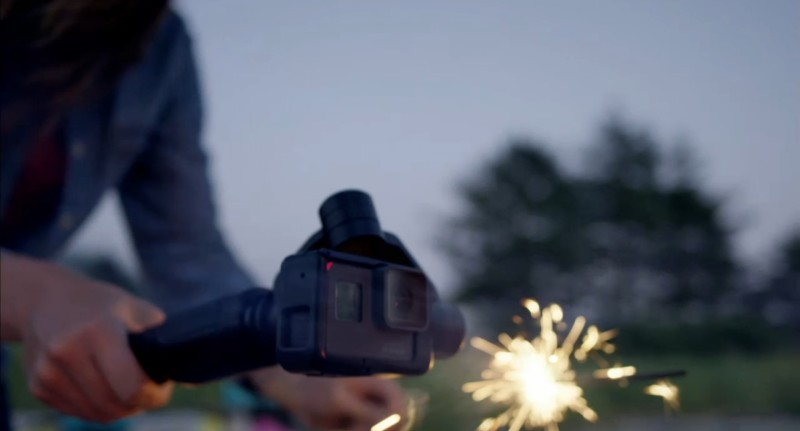 Details like controller range, flight time, and other details that you would expect GoPro to mention right away were left out of the announcement.
Woodman, and by extension GoPro, instead focused on the experience of the thing. Like how easy it is to fly using the "game-style flight and camera control, how portable it is all folded up and packed in the Karma Case, and how cool it is that the stabilizer is removable.
Not to mention the The GoPro Passenger App, that lets a friend control your camera and see what you're capturing using an iPad or iPhone while you pilot the drone itself.
If you dig into the landing page, you'll find some details though. For instance, you'll find out that that the Karma drone features built-in "No-Fly Zones" to keep you out of trouble, and a simple land button that brings the Karma drone back to you or the launch location, no matter where you've flown it to.
Battery wise, Karma will run for 20 minutes on a 1-hour charge, and GoPro has gone out of its way to make the drone easy to repair. Not just the "efficient" and "quiet" propellers that allegedly generate more lift with less noise, but the arms themselves can be replaced, and replacement arms come with all the tools you'll need to do it yourself.
Here are some video intros to the Karma Drone, Karma Grip, and Karma Controller, along with product shots of the drone from all angles:
Read More:
~