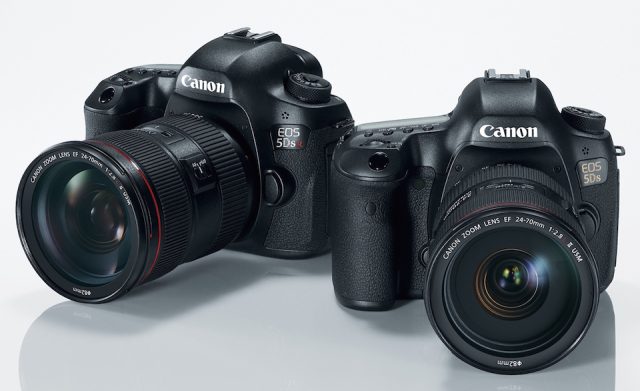 Canon has announced two new DSLRs based on the 5D body, the 5DS and 5DS R, both containing a monstrous, full-frame 50.6 megapixel sensor and a handful of other hardware tweaks. With the two new cameras—available in June, priced $3,700 and $3,900 respectively—Canon once again retakes the the 35mm resolution crown from Nikon. The 5DS R, like Nikon's D800E, has a self-canceling low pass filter, which can result in even higher optical resolution and sharpness. Both cameras are being pitched at studio and landscape photographers who absolutely need as much resolution as possible—but perhaps a little oddly, neither of them replace the 5D Mark III.
For the longest time, Canon was the go-to choice for high-resolution crop sensor (APS-C, APS-H) and full-frame digital cameras. Once the company's cameras hit 20 megapixels, though (a few years ago now), the focus shifted towards higher quality pixels, better image signal processing, better autofocus, and other features that made more sense than just mindlessly adding mo' pixels. Eventually, Canon was overtaken by Nikon with the 36.3-megapixel D810, Nokia's 41-megapixel Lumia 1020, and others. Now, clearly, Canon wants to prove that it can be good at all those other bits and still dominate the resolution race.
Hardware-wise, the Canon 5DS and 5DS R are identical, except the 5DS R has a self-canceling low-pass filter (more on that later). Both new cameras use a body that is very similar to the 5D Mark III. There are dual Digic 6 processors (allowing for up to 5 fps continuous shooting), 61-point AF, and an ISO range from 100 to 6400 (extendable to 12,800). Reinforcing that this is a studio and landscape camera, both cameras feature a reinforced tripod socket and some fancy tweaks to how the mirror works to reduce mirror slap and increase image sharpness.
Read more:
~