If you're in the market for a high-end full-frame camera, chances are good the Canon 5D Mark IV, Sony A7R II, and Nikon D810 are all contenders. Check out this side-by-side comparison if you're having a hard time deciding which of the three is best for you.
This comparison was put together by JP Morgan over at The Slanted Lens, who enlisted the help of Kenneth Merrill to put all three of these cameras through their paces using native glass. They tested image quality, autofocus accuracy and tracking, dynamic range, and high ISO/low light performance to see where each camera excelled, or if there's even a noticeable difference.
You should definitely check out the full video to see the comparison tests and judge the results for yourself, but if you're in a hurry, you can read our summary below.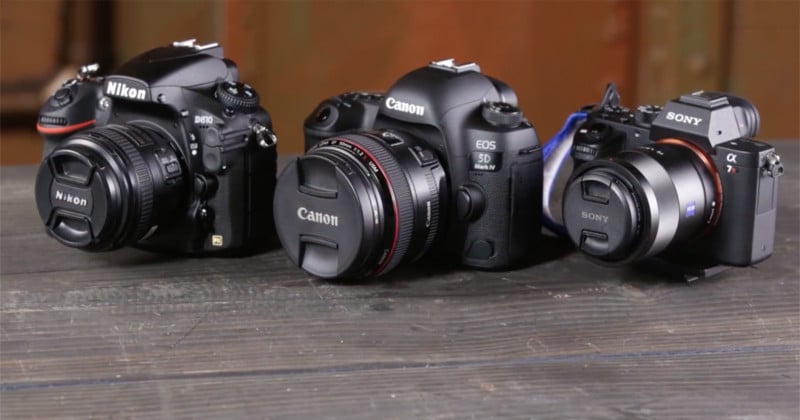 Image Quality
Canon really fell short here, but then again it's also the lowest resolution camera of the bunch at just 30.4MP compared to Nikon's 36.3MP and Sony's 42MP. Both the Nikon and Sony came out very sharp, but each exposed the scene a little differently, and the lower res Nikon seems to have generated the highest quality image.
Autofocus
Sony won tracking hands down thanks to the plethora of AF points going all the way to the edge of the sensor and its nifty Face Detection mode. As far as accuracy, Nikon seems to hit the mark more accurately than Canon (the Sony had to sit this test out).
Read More:
~